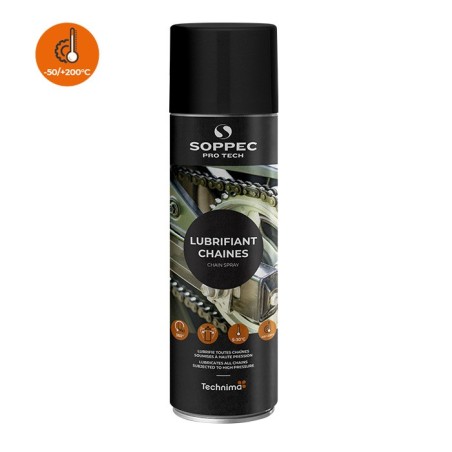  
Chain lubricant
Chain spray
High quality chain lubricant for transmission chains subject to high pressure. The product possesses excellent mechanical and thermal stability, offers optimal protection, reduces resistance and prevents seizure and wear. It will extend the working life of all the parts concerned. Notably used for the maintenance and care of conveyor belts, gearing, forklift trucks and engines.
See product's full description
Specifications of the Chain lubricant
Packaging: 500 ml
Composition: synthetic anti-corrosion lubricant with anti-wear additives
Appearance: clear, light brown liquid
Propellant: propane-butane
VOC-EU g/l: 336 g/l
Relative density (20°C g/ml): 0.746
Vapour pressure at 20°C: 2.2 - 2.8 bar
Spray flow: 1.5 g/sec
Withstands temperatures: -40°C to +200°C
 Instructions of use of the Chain lubricant
Shake well the chain spray before using.
Apply several thin coats of chain lubricant.
When the spray is first applied, it will become foamy and thus better able to penetrate the mechanism being treated.
Remove any excess product with a cloth.
Better lubrication is obtained after evaporation of the solvent.
CLP labelling with two pictograms.
Dangerous. Follow the precautions.
HYDROCARBURES, C7-C9, N-ALCANES, ISOALCANES, CYCLIQUES
H222 Extremely flammable aerosol.
H229 Pressurised container: May burst if heated.
H336 May cause drowsiness or dizziness.
H412 Harmful to aquatic life with long lasting effects.
Health and safety
Safety data sheets are available free of charge on the internet: www.quick-fds.com.