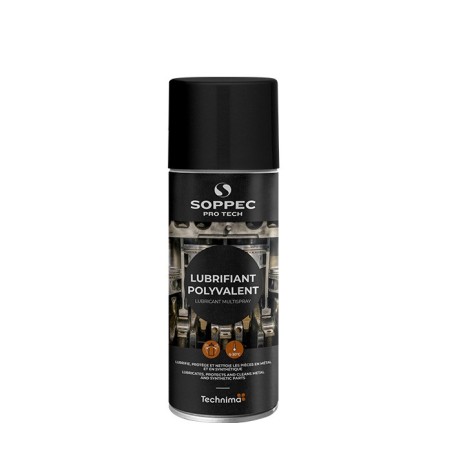  
Spray lubricant
Universal lubricant
A high quality universal spray lubricant oil to lubricate, protect and clean metal and synthetic parts such as locks, nuts, hinges and gears. Multispray offers excellent penetration and cleaning, anti-humidity and anti-corrosion properties. It eliminates grease, oil, wax, Tectyl and hydrocarbon residues, leaving behind a protective film after cleaning.
See product's full description
Specifications of the spray lubricant
Packaging: 400 ml
Composition: aromatic hydrocarbons, mineral oils, anti-corrosion and anti-humidity additives
Appearance: colourless, clear, slightly cloudy liquid
Propellant: propane-butane
VOC-EU g/l: 480 g/l
Relative density (20°C g/ml): 0.715
Vapour pressure at 20°C: 3.4 - 4.0 bar
Spray flow: 1.6 g/sec
Instructions of use of the multispray lubricant
Shake well the spray lubricant before using.
Apply the required amount of multispray.
Better lubrication is obtained after evaporation of the solvent.
CLP labelling with two pictograms.
Dangerous. Follow the precautions.
HYDROCARBONS, C9-C11, N-ALKANES, ISOALKANES, CYCLICS, < 2%% AROMATICS
H222 Extremely flammable aerosol.
H229 Pressurised container: May burst if heated.
H336 May cause drowsiness or dizziness.
Health and safety
Safety data sheets are available free of charge on the internet: www.quick-fds.com.