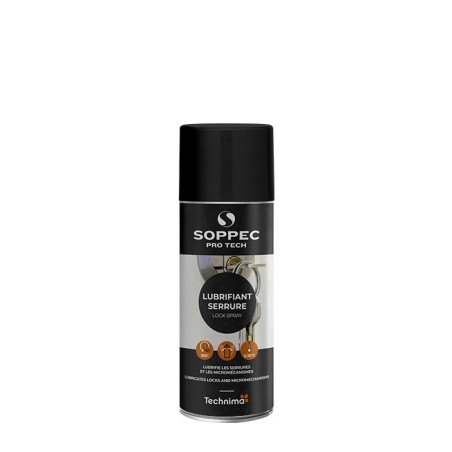  
Lock lubricant
Lock spray
Soppec PRO TECH lock lubricant is a high quality grease-free lube for the protection and lubrication of micro-mechanisms (gates, fences, warehouse doors, etc). Notably designed for the maintenance and care of cylinder blocks for fences, gates, garages and doors, etc. It is also ideal for hinges and tools, penetrating deeply to reach every part of the mechanism. Protects against corrosion.
See product's full description
Specifications of the Lock lubricant
Packaging: 200 ml
Composition: white mineral oil
Appearance: colourless clear liquid
Propellant: propane-butane
VOC-EU g/l: 386 g/l
Relative density (20°C g/ml): 0.701
Vapour pressure at 20°C: 2.7 - 3.3 bar
Spray flow: 1.2 g/sec
Instructions for use of the Lock lubricant
Shake well the lock spray before using.
Spray a thin layer over seized the mechanism then action it several times until it is finally released.
CLP labelling with two pictograms.
Dangerous. Follow the precautions.
PENTANE
H222 Extremely flammable aerosol.
H229 Pressurised container: May burst if heated.
H336 May cause drowsiness or dizziness.
H412 Harmful to aquatic life with long lasting effects.
Health and safety
Safety data sheets are available free of charge on the internet: www.quick-fds.com.