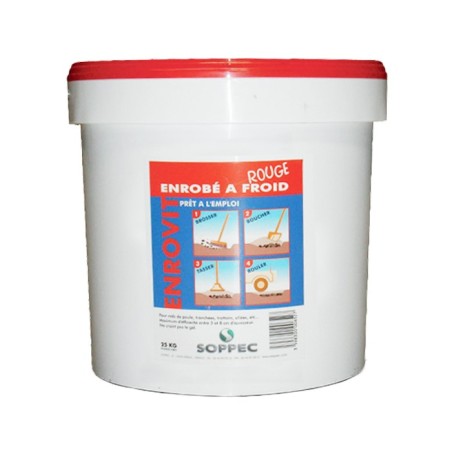  
ENROVIT cold lay asphalt
Cold plant mixes
ENROVIT® is a cold lay asphalt designed for repairs that need to be carried out immediately : Potholes, Trenches, Maintenance work to drives and garden paths, minor repairs. Asphalt that can be stored ready-to-use, ideal for urgent repair work. The packaging guarantees long shelf-life and immediate availability when needed.
See product's full description
| Volume discounts | Box discount | You Save |
| --- | --- | --- |
| 40 | €15.00 | €600.00 |
ENROVIT : THE COLD LAY ASPHALT FOR QUICK AND EASY REPAIRS
Properties of the cold lay asphalt
Flexible and permeable.
Granule size: 0/4, 0/6, 0/10.
Path and garden maintenance, small repairs. Packaged, storable plant mixes, designed for your emergency uses. The packaging ensures that they keep well and are available immediately.
25 kg bucket.
Specifications of the bitumen cold plant mix
Storage
Packaged in 25 kg buckets.
Palette of 40 buckets, equivalent to 1,000 kg.
Store in a frost free place and reseal to keep airtight after use.
Composition
Cold-lay asphalt, coarsegrained black or red, flexible and permeable or semi-dense.
Aggregates and sands compliant with the XP P 18-540 standard specifications.
Discontinuous grain size grading curve:
• ENROVIT® black (0/4, 0/6, 0/10)
• ENROVIT® red (2/6 or 0/10)
Density: 2% void content (for permeable types): 15 to 20 %.
Data sheet
Product type

Marking complement

Application domain

Maintenance, Roads, earthworks, pipes, construction...

Application area

Bitumens

Packaging

25kg bucket
Specific References
ean13

3598300006527
Instructions for use
Clean prior to use with a neutral universal detergent.
Application method
1) After preparing the surface, apply a 3 to 5 cm thick layer of asphalt (60 kg to 80 kg/m²).
Tamper using a cylinder roller.
Curing time (elimination of solvents): 3 weeks.
2) Clean, sweep and prepare a square that is free from debris, mud, etc. Apply the asphalt in a layer 1 cm higher than the required finished level.
Compact using a cylinder roller or tamper by hand.
Quantity required: 60 kg to 80 kg/m² for a thickness of 3 to 5 cm.
For improved adhesion, apply a bitumen spray tack coat beforehand.
CLP labelling with a single pictogram.
Dangerous. Follow the precautions.
Health and safety
Safety data sheets are available free of charge on the internet: www.quick-fds.com.
No paint mist or drips during use.