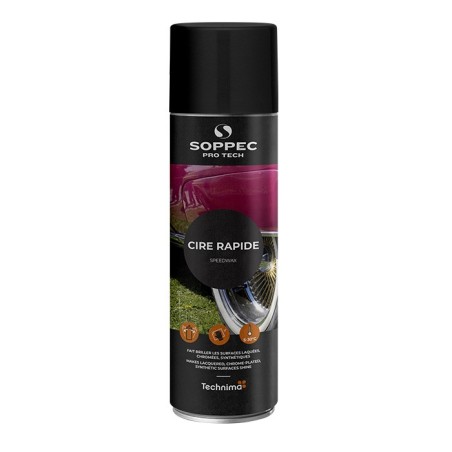  
Speed wax
Speed wax spray
PRO-Tech Speedwax is the ideal way to obtain a rapid yet long-lasting shine and protection for any lacquered, chromium-plated or synthetic surface. Removes light oxidation and signs of wear, slight marks and bituminous residues or splashes. Can be used on synthetic materials, bumpers, wheel rims, hubcaps, etc.
See product's full description
Specifications of the Speed wax 
Packaging: 500 ml
Base: blend of natural and synthetic products, silicone oils, solvents and slow-evaporation additives
Appearance: pale yellow grease
Propellant: propane-butane
VOC-EU g/l: 241 g/l
Relative density (20°C g/ml) : 0.864
Vapour pressure at 20°C : 2.5 - 3.1 bar
Spray flow : 1.8 g/sec
Instructions of use of the Speed wax
Shake thoroughly before use.
Apply PRO TECH Speed wax in a thin even coat.
Spread with a soft cloth, leave to act for a few seconds, then polish with a clean cloth.
CLP labelling with one pictogram.
Dangerous. Follow the precautions.
MIXTURE OF: 5-CHLORO-2-METHYL-4-ISOTHIAZOLIN-3-ONE [EC NO. 247-500-7] AND 2-METHYL-2HISOTHIAZOL-3-ONE [EC NO. 220-239-6] (3:1)
H222 Extremely flammable aerosol.
H229 Pressurised container: May burst if heated.
Health and safety
Safety data sheets are available free of charge on the internet: www.quick-fds.com.