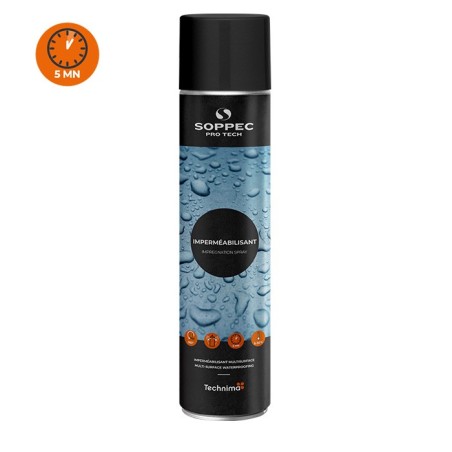  
Impregnation spray
Oil / Water repellent
A spray that impregnates the surface treated to provide optimum protection against humidity and prevent dirt becoming encrusted. Suitable for both porous and nonporous surfaces such as seals, natural stone and ceramic coatings. The invisible, waterproof yet air-permeable film created provides the treated surface with efficient and effective protection against dirt, oil and humidity.
See product's full description
Specifications of the Impregnation spray
Packaging: 600 ml net
Composition: fluorocarbon
Appearance: colourless clear liquid
Propellant: propane-butane
Relative density (20°C g/ml): 0.697
Vapour pressure at 20°C: 3.7 - 4.3 bar
Spray flow: 1.7 g/sec
Drying time: approximately one hour
VOC-EU g/l: 697 g/l
Instructions of use of the Impregnation spray
Shake thoroughly before use.
Spray the areas concerned with successive light coats allowing a drying time of 5-10 minutes between each application.
CLP labelling with three pictograms.
Dangerous. Follow the precautions.
HYDROCARBONS, C6-C7, N-ALKANES, ISOALKANES, CYCLICS, <5%% N-HEXANE
H222 Extremely flammable aerosol.
H229 Pressurised container: May burst if heated.
H315 Causes skin irritation.
H336 May cause drowsiness or dizziness.
H411 Toxic to aquatic life with long lasting effects.

Health and safety
Safety data sheets are available free of charge on the internet: www.quick-fds.com.