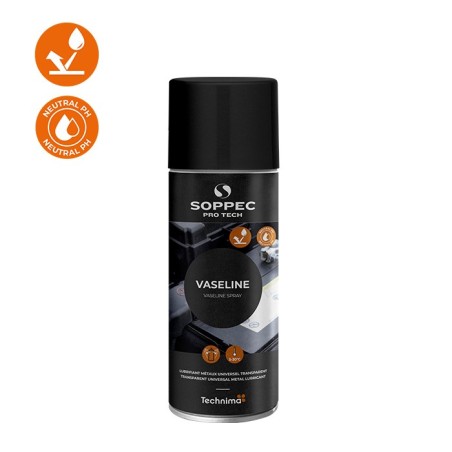  
Vaseline spray
Lubricant spray
A high quality, transparent and universal means of lubrication that protects against corrosion, wear and seizure. For the maintenance and protection of metals, nuts and bolts, hinges and battery terminals, etc. Water-resistant and pH neutral, it is resistant to salts, weak bases and acids.
See product's full description
Specifications of the Vaseline spray
Packaging: 400 ml
Composition: pure Vaseline, non-acidic, non-resinous white Vaseline
Appearance: clear, colourless slightly cloudy liquid
Propellant: propane-butane
VOC-EU g/l: 594 g/l
Relative density (20°C g/ml): 0.642
Vapour pressure at 20°C: 3.3 - 3.9 bar
Spray flow: 1.1 g/sec
Drop point: 50°C-56°C
Instructions of use of the Vaseline spray
Shake thoroughly the vaseline spray before using.
Apply the Vaseline lubricant in thin coats.
Improved lubrication is obtained once the solvent has evaporated (approximately one minute).
CLP labelling with two pictograms.
PROPAN-2-OL
H222 Extremely flammable aerosol.
H229 Pressurised container: May burst if heated.
H319 Causes serious eye irritation.
H336 May cause drowsiness or dizziness.
Health and safety
Safety data sheets are available free of charge on the internet: www.quick-fds.com.