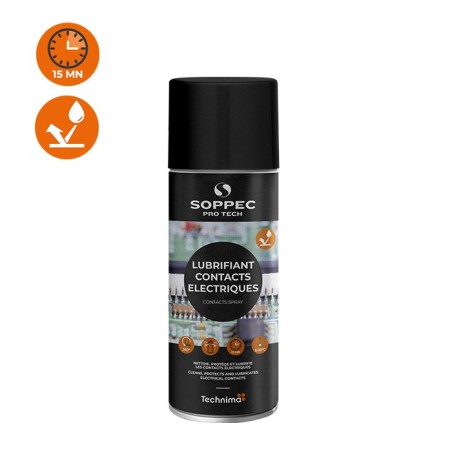  
Contact cleaner lubricant spray
Cleaning and lubricant oil for contact
A combined cleaner and lubricant oil that not only offers high quality protection but can also dissolve rust. It guarantees a long operational life for electrical appliances and less downtime. The contact cleaner lubricant spray is non-corrosive, eliminates dirt and improves conductivity. It reduces mechanical resistance and provides long-term protection against humidity.
See product's full description
Contact cleaner lubricant spray
Specifications of the Contact cleaner lubricant spray
Packaging: 400 ml
Composition: aliphatic hydrocarbons and mineral oil
Appearance: colourless clear liquid
Propellant: propane-butane
VOC - CH%: 93%
VOC-EU g/l: 645 g/l
Relative density (20°C g/ml): 0.694
Vapour pressure at 20°C: 1.8 - 2.4 bar
Spray flow: 2.1 g/sec
Instructions of use of the Contact cleaner lubricant spray 
Shake thoroughly the contact cleaner lubricant spray before use.
Always ensure that any electronic equipment has been unplugged or switched off before applying.
Point the aerosol at the surface to be cleaned and spray.
After treating, wait until the product has evaporated completely (after +/-15 minutes) before switching equipment back on.
CLP labelling with three pictograms.
Dangerous. Follow the precautions.
HYDROCARBONS, C6-C7, N-ALKANES, ISOALKANES, CYCLICS, <5%% N-HEXANE
H222 Extremely flammable aerosol.
H229 Pressurised container: May burst if heated.
H315 Causes skin irritation.
H319 Causes serious eye irritation.
H336 May cause drowsiness or dizziness.
H411 Toxic to aquatic life with long lasting effects.

Health and safety
Safety data sheets are available free of charge on the internet: www.quick-fds.com.