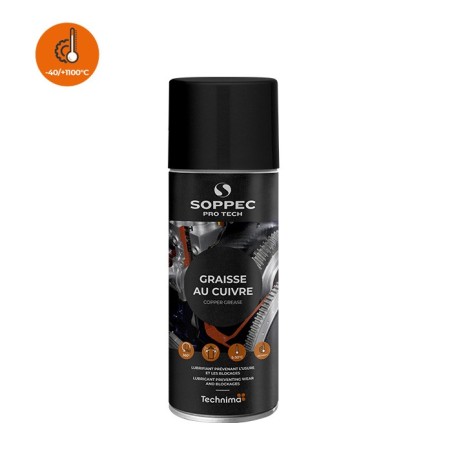  
Copper grease
Lubricant with copper
Copper grease is a lubricant containing a high level of copper to prevent the wear and seizure of connecting screws exposed to very high temperatures. It facilitates the assembly and dismantling of bearings and other fittings and prevents seizing. The product repels humidity and is water and corrosion resistant.
See product's full description
Specifications of the Copper grease
Packaging: 400 ml
Composition: blend of grease, mineral oils, copper particles and corrosion inhibitors
Appearance: copper-coloured paste
Propellant: propane-butane
VOC-EU g/l: 469 g/l
Relative density (20°C g/ml): 0.721
Vapour pressure at 20°C: 3.5 - 4.1 bar
Spray flow: 2.3 g/sec
Withstands temperatures: -40°C to +1,100°C
Instructions of use of the Copper grease
Shake thoroughly before use.
Apply the copper grease spray.
The specific lubricating action becomes effective once the solvent has evaporated (approximately one minute).
CLP labelling with three pictograms.
Dangerous. Follow the precautions.
HYDROCARBONS, C6-C7, N-ALKANES, ISOALKANES, CYCLICS, <5%% N-HEXANE
H222 Extremely flammable aerosol.
H229 Pressurised container: May burst if heated.
H315 Causes skin irritation.
H336 May cause drowsiness or dizziness.
H411 Toxic to aquatic life with long lasting effects.

Health and safety
Safety data sheets are available free of charge on the internet: www.quick-fds.com.