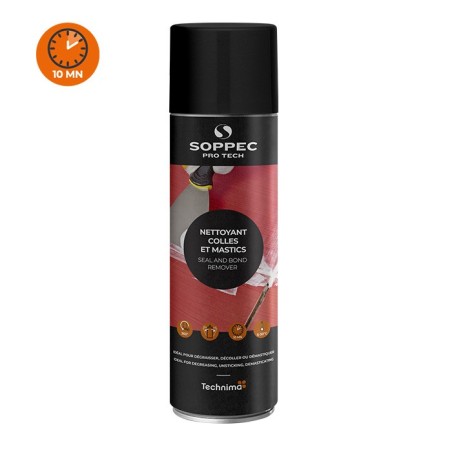  
Seal and bond remover
Mastic and adhesive remover
The Soppec PRO TECH mastic and adhesive remover dissolves glue, tar, mastic and silicone residues easily and quickly. The ideal
solution for degreasing surfaces prior to other treatment. Will leave the majority of painted surfaces and synthetic materials undamaged, leaves no residue.
See product's full description
Specifications of the Seal and bond remover 
Packaging: 500 ml
Composition: blend of aromatic and aliphatic hydrocarbons and alcohols
Appearance: colourless clear liquid
Propellant: CO2
VOC-EU g/l: 774 g/l
Relative density (20°C g/ml): 0.794
Vapour pressure at 20°C: 5.2 - 5.8 bar
Spray flow: 3.4 g/sec
Instructions of use of the Seal and bond remover 
Shake thoroughly before use.
Apply to a clean dry cloth and treat the surface.
Leave to act for a few minutes then remove the residues.
Repeat the treatment if necessary, notably for thick layers of adhesive or hardened glue.
For painted or plastic surfaces, it is strongly recommended to carry out a test beforehand to ensure compatibility.
CLP labelling with two pictograms.
Dangerous. Follow the precautions.
DEAROMATIZED HYDROCARBONS
H222 Extremely flammable aerosol.
H229 Pressurised container: May burst if heated.
H319 Causes serious eye irritation.
H336 May cause drowsiness or dizziness.
Health and safety
Safety data sheets are available free of charge on the internet: www.quick-fds.com.