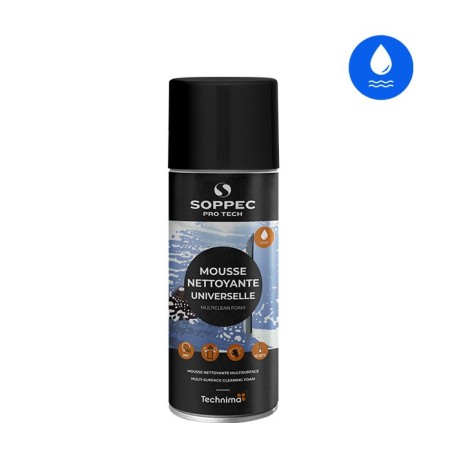  
Multi-clean foam spray
General purpose cleaner
A professional grade cleaner that can be used on almost all surfaces. Easily removes grease, oil/lubricant, nicotine and silicone.
Perfect for easily and quickly cleaning glass, floor coverings, worktops and any smooth non-porous surface. Also has the advantage
of working non-statically to leave a clean, scratch-free surface.
See product's full description
Specifications of the Multi-clean foam spray
Packaging: 400 ml
Composition: water, glycol ether and surface active agents
Appearance: foaming, colourless clear liquid
Propellant: propane-butane
VOC-EU g/l: 103 g/l
Relative density (20°C g/ml): 0.96
Vapour pressure at 20°C: 4.6 - 5.2 bar
Spray flow: +/-1.7 g/sec
Instructions of use of the Multi-clean foam spray
Apply Soppec PRO TECH Cleaning Foam and leave to act for a few minutes. Apply evenly with a cloth then dry by rubbing with a dry cloth.
CLP labelling with one pictogram.
Dangerous. Follow the precautions.
H222 Extremely flammable aerosol.
H229 Pressurised container: May burst if heated.
Health and safety
Safety data sheets are available free of charge on the internet: www.quick-fds.com.