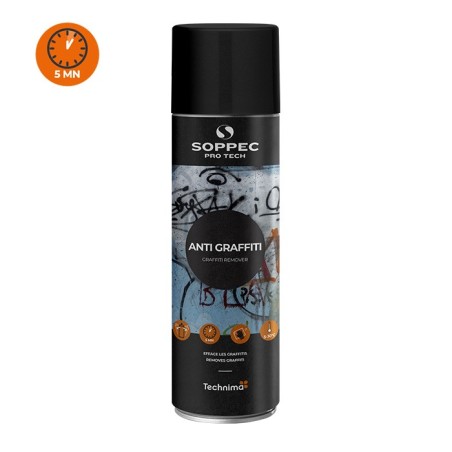  
Graffiti removal spray
Anti graffiti
The solution for almost every graffiti problem. Efficiently removes graffiti from painted, varnished or rendered surfaces and from
Trespa, Plexiglas, polycarbonate sheets, etc, without damage. Can be applied to any type of surface: doors, road signs, blinds, trains, bus and metro, various lacquered and coated materials and Plexiglas.
See product's full description
Specifications of the Graffiti removal spray
Packaging: 500 ml
Composition: benzyl alcohol
Appearance: colourless clear liquid
Propellant: DME
VOC-EU g/l: 549 g/l
Relative density (20°C g/ml): 0.845
Vapour pressure at 20°C: 3.7 - 4.3 bar
Spray flow: 1.6 g/sec
Instructions of use of the Graffiti removal spray
Apply the graffiti removal spray over the surface to be treated.
Leave the anti graffiti to act for at least 5 minutes.
Once the graffiti has dissolved, remove it and rinse with soap and water to prevent marks.
CLP labelling with three pictograms.
Dangerous. Follow the precautions.
BENZYL ALCOHOL
2-AMINOETHANOL
H222 Extremely flammable aerosol.
H229 Pressurised container: May burst if heated.
H302 + H332 Harmful if swallowed or if inhaled.
H314 Causes severe skin burns and eye damage.
H335 May cause respiratory irritation.

Health and safety
Safety data sheets are available free of charge on the internet: www.quick-fds.com.