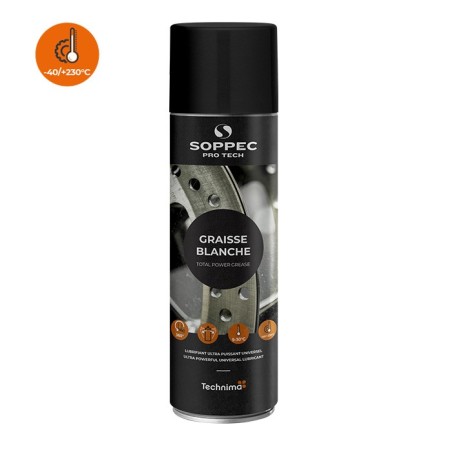  
White grease spray
Universal lubricant
High quality universal lubricant. The white grease spray is liquid when applied to enable deep penetration. It then sets to become a pressure resistant grease. Optimal lubrication is guaranteed, even under high pressure, for a wide range of temperatures. The product protects against corrosion (copper and steel) and is resistant to the damage caused by chemicals and to adverse weather conditions.
See product's full description
The white grease spray is ideal for any metal parts that rub against one another (doors, window mechanisms, pedals, hinges, gears, pedal elements, bearings, etc).
Optimal lubrication is guaranteed for a wide range of temperatures (from -40°C and up to peak temperatures of 230°C).
Specifications of the White grease spray
Packaging: 500 ml
Composition: mineral oil, lithium soap and EP additives
Appearance: almost colourless, allowing it to be used on visible parts
Propellant: propane-butane
VOC-EU g/l: 539 g/l
Relative density (20°C g/ml): 0.658
Vapour pressure at 20°C: 2.5 - 3.1 bar
Spray flow: 1.8 g/sec
Withstands temperatures: -40°C to +170°C
Instructions of use of the White grease spray
Ideally, clean the surface with a 

powerful PRO TECH cleaner

before applying.
Shake well the white grease spray before using.
Apply the powerful PRO TECH super grease to the surface to be treated.
The specific lubrication is effective once the solvent has evaporated (approximately one minute).
CLP labelling with two pictograms.
Dangerous. Follow the precautions.
PENTANE
HYDROCARBONS, C9-C11, N-ALKANES, ISOALKANES, CYCLICS, < 2%% AROMATICS
H222 Extremely flammable aerosol.
H229 Pressurised container: May burst if heated.
H336 May cause drowsiness or dizziness.
H412 Harmful to aquatic life with long lasting effects.
P101 If medical advice is needed, have product container or label at hand.
Health and safety
Safety data sheets are available free of charge on the internet: www.quick-fds.com.