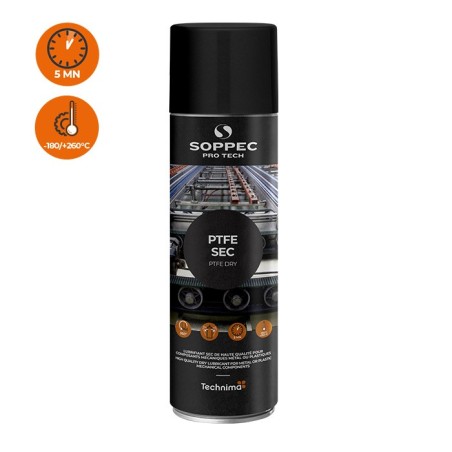  
PTFE dry lubricant
Dry PTFE spray
A high quality PTFE dry lubricant for mechanical components in metal or synthetic materials that need protection against oil and grease residues. The product forms a dry anti-static film that is virtually invisible, eliminating problems caused by friction on start-up and due to slipping.It is resistant to weather, acids and soft alkalis; it is water-repellent and pH neutral.
See product's full description
Our dry PTFE spray offers a very low friction coefficient, an almost smooth texture, with particles of approximately 5 micrometres, together with very good adhesion.  It therefore reduces wear and seizure for machine and equipment parts, conveyor belts, guide rails, machinery/agricultural parts.
Specifications of the PTFE dry lubricant
Packaging: 500 ml
Composition: PTFE dispersion, polymers in alcoholic solvents
Appearance: clear, slightly cloudy liquid
Propellant: propane-butane
VOC-EU g/l: 598 g/l
Relative density (20°C g/ml): 0.604
Vapour pressure at 20°C: 4 - 5 bar
Spray flow: 1.1 g/sec
Particle size: 3.7 μm
Drying time: approximately 5 minutes
Withstands temperatures: -180°C to +260°C
Instructions of use of the PTFE dry lubricant
Shake well the PTFE dry lubricant before using and apply a thin layer of Dry PTFE.
A dry PTFE film is formed following evaporation of the solvent (approximately 5 minutes).
CLP labelling with two pictograms.
Dangerous. Follow the precautions.
PROPAN-2-OL
H222 Extremely flammable aerosol.
H229 Pressurised container: May burst if heated.
H319 Causes serious eye irritation.
H336 May cause drowsiness or dizziness.
Health and safety
Safety data sheets are available free of charge on the internet: www.quick-fds.com.