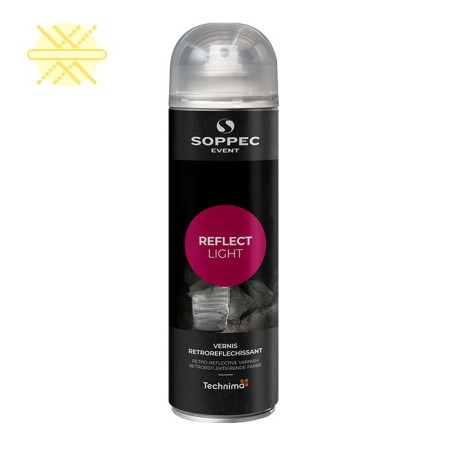  
REFLECT LIGHT Light Reflective Paint
Retro-reflective varnish
REFLECT LIGHT is a Light Reflective Paint in aerosol spray format. This light-reflecting coating is highly effective in the dark. It can be used for a wide range of different uses to create an effect similar to that of road signs: to indicate a hazardous area, to mark a pathway or other area for safety purposes, or for marking-out sports or cultural events.
See product's full description
REFLECT LIGHT Light Reflective Paint
REFLECT LIGHT®: THE LIGHT REFLECTIVE PAINT, AND GREAT SAFETY SOLUTION FOR ZONES DIVED IN DARKNESS
The light from any beam (torch, vehicle headlights, etc) is reflected due to diffraction by the glass microbeads present in the clear varnish.
It provides a simple "safety" solution when there are natural obstacles or other specific risks that need to be seen in poor visibility, whether indoors or outside.
Properties of the REFLECT LIGHT Light reflective varnish
Good durability over time: 6 to 12 months (depending on application surface and conditions).
Can be applied to a wide range of surfaces (concrete, wood, asphalt, metal, stone, etc).
(On plastic or painted surfaces, it is advisable to test beforehand to check compatibility).
Application temperature: -15°C to 50°C.
Apply one light coat. Good adhesion.
Rapid drying: 5 min.
Immediately becomes highly reflective at night, under a direct beam of light (30 m to 40 m).
Specifications of the REFLECT LIGHT Retro-reflective varnish
Composition
Binder: acrylic.
Pigments: a specific blend of several types of specially treated glass microbeads, free from lead and cadmium.
Solvents: a complex mix free from chlorinated solvents and aromatic compounds (toluene, xylene, etc).
Propellant: a specific blend of isobutane and propane.
Data sheet
Volume

500 ml

Marking time

6 to 12 months

Product type

See in the dark paint, Marking complement

Application domain

Worksite security, Signalling and events, Ground signage, Security

Application area

Plastic, Metal, Woods, Minerals, Sands, Gravels, Grass, Bitumens, Concrete

Packaging

Box of 6 cans
Specific References
ean13

3598300007753
Application method
Apply by hand or using our application equipment (hand gun, stencils). Vertical use (head-up).
Before use : shake the aerosol vigorously and continue shaking for about fifteen seconds, even after having clearly heard the ball bearings, to ensure the paint is well-mixed (particularly the glass microbeads).
Shake the aerosol regularly during use.
During and after use: purge.
Apply to a clean, dry surface.
Apply very light even coats (successive lightly applied layers) approximately 10 cm to 20 cm from the surface to develop maximum reflectivity.
In daylight it should be barely visible.
It may be necessary to protect adjacent surfaces to prevent possible overspray (mist).
The retro-reflective effect can be verified by holding a torch at eye-level and pointing the light beam directly at the painted surface, once it is dry.
CLP labelling with a single pictogram.
Dangerous. Follow the precautions.
EC 927-241-2 DEAROMATIZED HYDROCARBONS
H222 Extremely flammable aerosol.
H229 Pressurised container: May burst if heated.
H336 May cause drowsiness or dizziness.
EUH066 Repeated exposure may cause skin dryness or cracking.P102 Keep out of reach of children.
Health and safety
Safety data sheets are available free of charge on the internet: www.quick-fds.com.
The environment and health at the heart of our priorities
The environment and health at the heart of our priorities
Our products are free of CMR substances (carcinogens, mutagens, etc.) of categories 1A, 1B & 2 at a concentration above the regulatory threshold of 0.1%.
They are formulated without Hexane and Methanol, Toluene and Xylene.
Without heavy metals Lead (Pb), Cadmium (Cd), ...
Without environmental hazard symbol n° 412 : "non toxic for aquatic organisms" and without long term harmful effects on the ecosystem.
Our labels comply with the European regulation in force CE n° 1272/2008 and its adaptations. (CLP Regulation - Classification - Labelling - Packaging (EC n° 1272/2008).