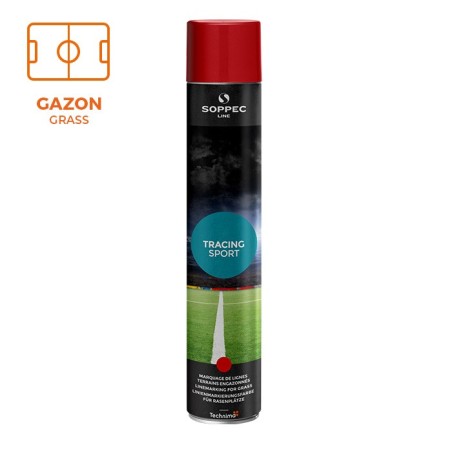  
TRACING SPORT Pitch Line Marking Paint
Line marking paint for grass
TRACING SPORT AND GRASS paint is a line marker specifically designed for multisport grass sports fields. TRACING® Sport is available in a 750ml (net volume) aerosol and meets the highest standards for quality marking. This grass paint is applied using a marking machine specifically designed for grass sports fields.
See product's full description
| Volume discounts | Box discount | You Save |
| --- | --- | --- |
| 10 | €23.04 | €230.40 |
TRACING SPORT Pitch Line Marking Paint
TRACING® SPORT : THE LINE MARKING PAINT DESIGNED FOR MULTISPORT GRASS SPORTS FIELDS
Properties of the TRACING SPORT line marking paint for grass
Crisp and precise marking thanks to its purpose-designed nozzle
Rapid drying (15-20 min)
Excellent coverage
Specially-designed formulation that will not damage the grass
Weatherproof for long-term marking
Temperature of use: +5° to 50°C
Line width 4 cm to 10 cm
1 x 750 ml aerosol
1 coat
2 coats
Slow application
75 m
35 m
Rapid application
110 m
55 m


Specifications of the TRACING SPORT line marking spray paint
Composition
Binder: acrylic
Pigments: mineral and organic, free from lead and cadmium
Solvents: a complex blend free from chlorinated solvents and aromatic compounds (toluene, xylene, etc)
Propellant: a specific mix of isobutane and propane
Application method
Manually or using our application equipment (line marking equipment, marking paint gun, see bellow)
Drying Time: 15 to 20 min
General conditions for use
For a good quality line, the first coat should be applied quickly (print layer); however the second and optional third coats should be applied more slowly to obtain the desired coverage.
For maximum visibility, a 2-coat application (with a rapid first application) is recommended.
Marking applied to wet or damp grass will have a shorter life.
Whenever possible apply to dry ground.
Recommendation for use
Use head down, adjust the position of the aerosol in the equipment used to give an application height that produces the desired line width.
BEFORE USE: Shake the can vigorously in an upside down position to thoroughly mix the paint, continue shaking even after having clearly heard the ball bearings.
AFTER USE: Purge head up (until gas only comes out) to clean the valve and nozzle.
CLP labelling with a single pictogram.
Dangerous. Follow the precautions.
Health and safety
Safety data sheets are available free of charge on the internet: www.quick-fds.com.
The environment and health at the heart of our priorities
The environment and health at the heart of our priorities
Our products are free of CMR substances (carcinogens, mutagens, etc.) of categories 1A, 1B & 2 at a concentration above the regulatory threshold of 0.1%.
They are formulated without Hexane and Methanol, Toluene and Xylene.
Without heavy metals Lead (Pb), Cadmium (Cd), ...
Without environmental hazard symbol n° 412 : "non toxic for aquatic organisms" and without long term harmful effects on the ecosystem.
Our labels comply with the European regulation in force CE n° 1272/2008 and its adaptations. (CLP Regulation - Classification - Labelling - Packaging (EC n° 1272/2008).