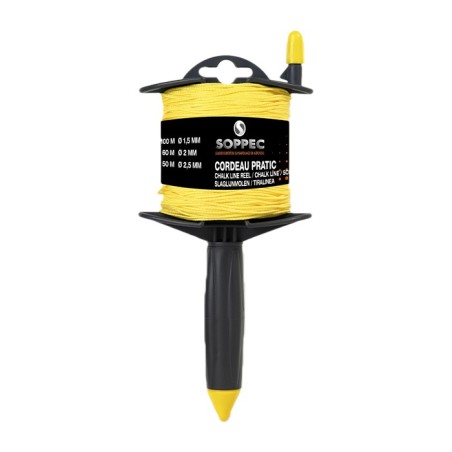  
Chalk Line PRACTICAL LINE
Chalk Line
All building trades use tracer chalk lines as soon as they have to trace a marker line on the ground or a wall. SOPPEC offers a full range designed for each use: Electricians, Plumbers, Joiners, Plasterers, Masons, Metal-workers, Buildings and Public Works, Floor layers, etc.
See product's full description
Chalk Line PRACTICAL LINE
"PRATIC" CHALK LINE
Yellow braided cord, diameter 1.5 mm length 100 m.
Wound onto a polypropylene holder.
Detachable handle for insertion into a ranging pole.
Easy to rewind using the lower handle and crank.
Can be simply pushed into the ground, useful for all outdoor setting-out work.
Data sheet
Product type

Marking accessory

Application domain

Mapping, tracking, picketing, Roads, earthworks, pipes, construction...

Packaging

Per unit