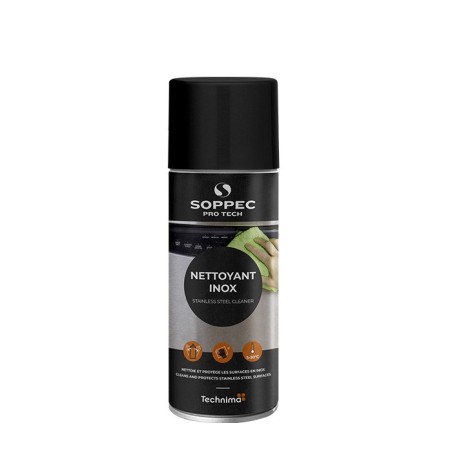  
Stainless steel cleaner
High quality cleaning spray
This high quality cleaner not only cleans but also provides long-term protection for stainless steel. Thanks to its unique formula it creates a thin protective film after cleaning that substantially reduces future soiling. Ideal for the care and maintenance of all stainless steel machinery and professional equipment.
See product's full description
Specifications of the Stainless steel cleaner
Packaging: 400 ml
Composition: blend of pure white mineral oil, aliphatic oils, alcohol and perfume
Appearance: colourless oily liquid
Propellant: propane-butane
COV - CH%: 95%
VOC-EU g/l: 660 g/l
Relative density (20°C g/ml): 0.693
Vapour pressure at 20°C: 3.0 - 3.4 bar
Spray flow: 0.9 g/sec
Instructions of use of the Stainless steel cleaner
Shake thoroughly before use.
Remove any dust present with a soft paintbrush beforehand to prevent scratching.
Apply a thin coat of stainless steel cleaner and leave for a short time.
Remove dust with a clean cloth.
Polish and shine with a cloth dry.
CLP labelling with three pictograms.
Dangerous. Follow the precautions.
2-BUTOXYETHANOL
HYDROCARBONS, C6-C7, N-ALKANES, ISOALKANES, CYCLICS, <5%% N-HEXANE
HYDROCARBONS, C9-C11, N-ALKANES, ISOALKANES, CYCLICS, < 2%% AROMATICS
(R)-P-MENTHA-1,8-DIENE
H222 Extremely flammable aerosol.
H229 Pressurised container: May burst if heated.
H302 Harmful if swallowed.
H315 Causes skin irritation.
H317 May cause an allergic skin reaction.
H319 Causes serious eye irritation.
H336 May cause drowsiness or dizziness.
H411 Toxic to aquatic life with long lasting effects.

Health and safety
Safety data sheets are available free of charge on the internet: www.quick-fds.com.