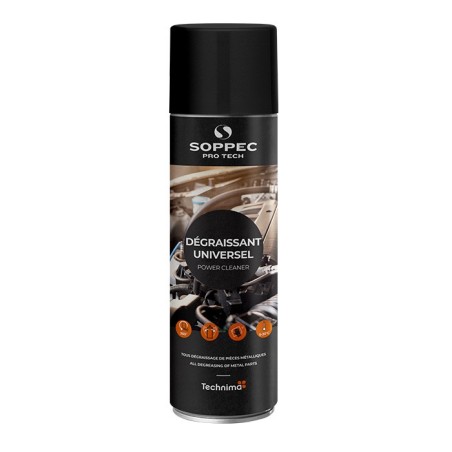  
Degreaser spray
Universal Degreaser spray
POWER CLEANER is a professional grade degreaser spray with high dilution capacity. It can be used for the maintenance of machine parts, brake shoes and linings, chains and gears, etc and can also be used to clean compressors and industrial installations. Leaves no residue and is neither a conductor nor corrosive.
See product's full description
Specifications of the Degreaser spray
Packaging: 500 ml
Composition: aliphatic hydrocarbons
Appearance: clear liquid
Propellant: CO2
VOC-EU g/l: 708 g/l
Relative density (20°C g/ml): 0.725
Vapour pressure at 20°C: 4.7 - 5.7 bar
Spray flow: 4.3 g/sec
Instructions of use of the Degreaser spray
Shake thoroughly before use. Spray over the surface to be treated until all grease, etc to be removed has disappeared.
CLP labelling with three pictograms.
Dangerous. Follow the precautions.
HYDROCARBONS, C6-C7, N-ALKANES, ISOALKANES, CYCLICS, <5%% N-HEXANE
H222 Extremely flammable aerosol.
H229 Pressurised container: May burst if heated.
H315 Causes skin irritation.
H336 May cause drowsiness or dizziness.
H411 Toxic to aquatic life with long lasting effects.

Health and safety
Safety data sheets are available free of charge on the internet: www.quick-fds.com.