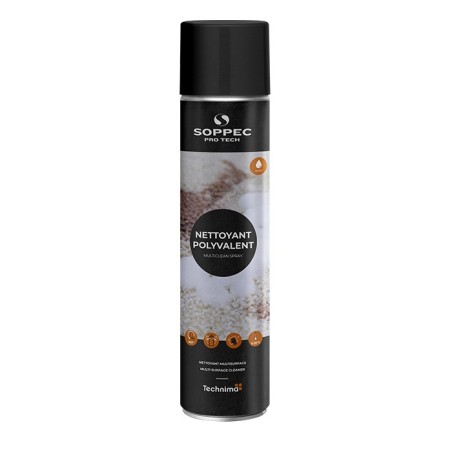  
Multi-clean Spray
General purpose cleaner
The Soppec PRO TECH Multi-clean Spray is ideal for almost any surface and a wide range of different types of dirt and residue. Amongst others, it will remove grease, nicotine, silicone and fingerprints from the surface treated. It is antistatic and can be applied to any smooth, non-porous surface.
See product's full description
Specifications of the Multi-clean Spray
Packaging: 600 ml
Slightly alkaline composition: water, solvents and surface active agents
Appearance: foaming, colourless clear liquid
Propellant: propane-butane
VOC-EU g/l: 689 g/l
Relative density (20°C g/ml): 0.913
Vapour pressure at 20°C: 3.7 - 4.3 bar
Spray flow: 2.6 g/sec
Instructions of use of the Multi-clean Spray
Shake thoroughly before use. Apply evenly to the surface with a cloth and leave to act for a few minutes. Then dry by rubbing with a dry cloth or paper tissue. If necessary, carry out a test beforehand in an unobtrusive area.
CLP labelling with two pictograms.
Dangerous. Follow the precautions.
(R)-P-MENTHA-1,8-DIENE
H222 Extremely flammable aerosol.
H229 Pressurised container: May burst if heated.
H317 May cause an allergic skin reaction.
H319 Causes serious eye irritation.
H412 Harmful to aquatic life with long lasting effects.
Health and safety
Safety data sheets are available free of charge on the internet: www.quick-fds.com.