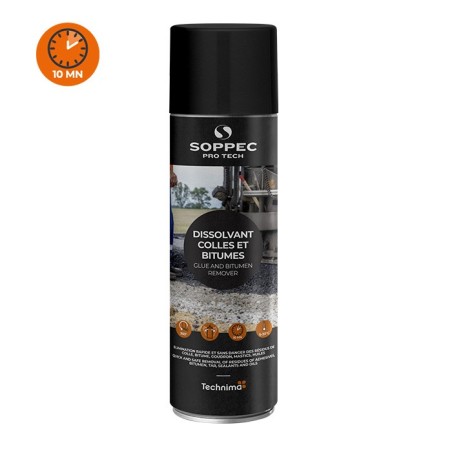  
Glue and bitumen remover
Residues remover
Designed to rapidly and safely remove residues of glue, polyurethane, tar, mastic, oil, Tectyl and glue, or any other sticky substances. Is also ideal for removing grease or resin and for cleaning tools. Non-corrosive and leaves no residue after use.
See product's full description
Specifications of the Glue and bitumen remover
Packaging: 500 ml
Composition: blend of D-Limonene from orange oil, surface-active agents
Appearance: colourless clear liquid
Propellant: propane-butane
VOC-EU g/l: 656 g/l
Relative density (20°C g/ml): 0.690
Vapour pressure at 20°C: 2.2 - 2.8 bar
Spray flow: 0.9 g/sec
Instructions of use of the Glue and bitumen remover
Shake thoroughly before use. Do not use at temperatures below 10°C. Do not use outside if there is a risk of rain or frost, or in full sun. Spray the solvent cleaner onto the surface to be cleaned. Leave to act for several minutes then remove with a cloth. If marks still remain, repeat until the desired result is obtained. Do not use on rubber or polystyrene. Before using, carry out a test on a small unobtrusive area of the surface to be cleaned to verify product compatibility. Will not remove hardened paint, polyurethane coatings and similar.
CLP labelling with three pictograms.
Dangerous. Follow the precautions.
(R)-P-MENTHA-1,8-DIENE
H222 Extremely flammable aerosol.
H229 Pressurised container: May burst if heated.
H315 Causes skin irritation.
H317 May cause an allergic skin reaction.
H410 Very toxic to aquatic life with long lasting effects.

Health and safety
Safety data sheets are available free of charge on the internet: www.quick-fds.com.