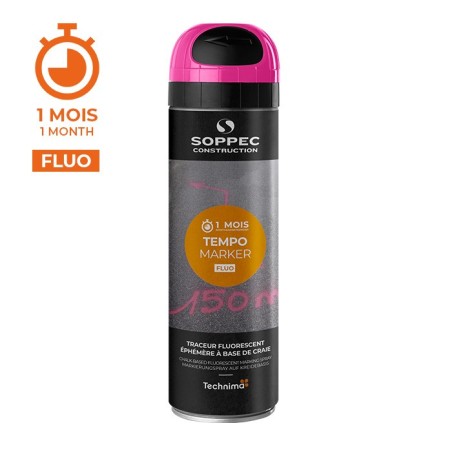  
TEMPO MARKER temporary marking spray paint
Temporary marking paint [5 - 15 days]
TEMPO MARKER paint is the ideal aerosol for short-lived ground markings. Especially suitable for very short-term markings, this temporary marking paint is useful for signalling and marking out sports (races, hikes) and other events (car boot sales, markets, shows and leisure events).
See product's full description
| Volume discounts | Box discount | You Save |
| --- | --- | --- |
| 10 | €11.52 | €115.20 |
TEMPO MARKER temporary marking spray paint
TEMPO MARKER : THE TEMPORARY MARKING SPRAY PAINT FOR VERY SHORTTERM MARKING
Properties of the TEMPO MARKER temporary marking spray paint
Can be used on many different surfaces: concrete, grass, wood and asphalt.
A particularly robust safety cap (no rupture if a full aerosol is dropped from a height of 1.50m).
Highly fluorescent, visible from a distance.
Marking duration: from a few days to 1 month maximum
Rapid drying: approximately 10 min.
Temperature range: -20 to 50°C
Natural elimination of the colour completed by mechanical action (water jet, low pressure cleaner, brushing, etc).
Specifications of the TEMPO MARKER temporary marking paint
Composition
Binder: acrylic.
Pigments: mineral and organic specifically selected to facilitate rapid degradation due to UV exposure.
Solvents: complex blend free from chlorinated solvents and aromatic compounds.
Propellant: specific blend of isobutane and propane.
Instructions for use

Before each use, shake the can well (even after hearing the beads clearly) 
To optimize the quality of the marking, we advise you to spray the paint at 10 - 15 cm from the surface / floor
After use, place the aerosol in a "head up" position and purge for 2 seconds to clean the valve and the diffuser. This prevents the aerosol from clogging
To facilitate your markings and limit bad postures and musculoskeletal disorders, use marking accessories
CLP labelling with two pictograms.
Dangerous. Follow the precautions.
607-022-00-5 ETHYL ACETATE
H222 Extremely flammable aerosol.
H229 Pressurised container: May burst if heated.
H319 Causes serious eye irritation.
H336 May cause drowsiness or dizziness.
EUH066 Repeated exposure may cause skin dryness or cracking.
Health and safety
Safety data sheets are available free of charge on the internet: www.quick-fds.com.
The environment and health at the heart of our priorities
The environment and health at the heart of our priorities
Our products are free of CMR substances (carcinogens, mutagens, etc.) of categories 1A, 1B & 2 at a concentration above the regulatory threshold of 0.1%.
They are formulated without Hexane and Methanol, Toluene and Xylene.
Without heavy metals Lead (Pb), Cadmium (Cd), ...
Without environmental hazard symbol n° 412 : "non toxic for aquatic organisms" and without long term harmful effects on the ecosystem.
Our labels comply with the European regulation in force CE n° 1272/2008 and its adaptations. (CLP Regulation - Classification - Labelling - Packaging (EC n° 1272/2008).