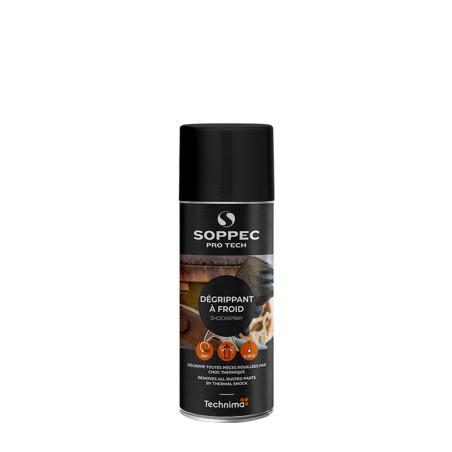  
Rust remover shock spray
Shock Spray
The Rust remover shock spray is a perfect solution to release seized or rusted parts. The spray produces a thermal shock that breaks rust and unblocks jammed elements. Ideal for releasing screw fixings, gears, locks, fixing materials, etc.
See product's full description
Specifications of the Rust remover shock spray
Packaging: 200 ml
Composition: aliphatic and aromatic
hydrocarbons, low viscosity mineral oils, anticorrosion additives and extra-fine particles
Appearance: clear red liquid
Propellant: propane-butane
COV - CH%: 97%
VOC-EU g/l: 580 g/l
Relative density (20°C g/ml): 0.596
Vapour pressure at 20°C: 3.9 - 4.5 bar
Spray flow: +/-2 g/sec
Instructions of use of the Rust remover shock spray
Shake well the rust remover shock spray before using.
Spray for several seconds.
The substantial drop in temperature, associated with the penetrating nature of the oil, effectively releases the part being treated.
CLP labelling with two pictograms.
Dangerous. Follow the precautions.
DANGER
HYDROCARBONS, C6-C7, N-ALKANES, ISOALKANES, CYCLICS, <5%% N-HEXANE
H222 Extremely flammable aerosol.
H229 Pressurised container: May burst if heated.
H315 Causes skin irritation.
H319 Causes serious eye irritation.
H336 May cause drowsiness or dizziness.
H412 Harmful to aquatic life with long lasting effects.
Health and safety
Safety data sheets are available free of charge on the internet: www.quick-fds.com.
CLP labelling with two pictograms.