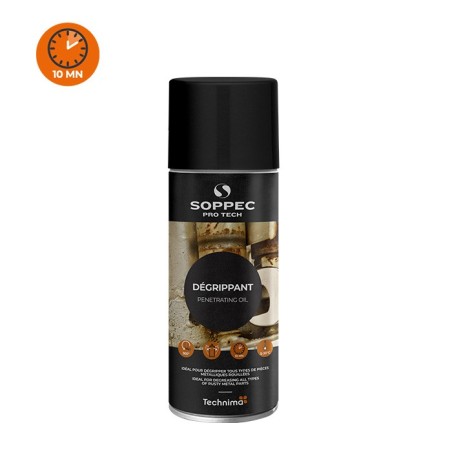  
Penetrating oil
Rust solvent
A very effective treatment to release rusted or seized parts such as locks, screws, nuts, hinges, metal fixings, etc. Product with a very high penetrating capacity and resistant to humidity and corrosion.
See product's full description
Specifications of the Penetrating oil
Packaging: 400 ml
Composition: aliphatic and aromatic hydrocarbons, low viscosity mineral oils, anti-corrosion and graphite additives and MoS2
Appearance: black liquid
Propellant: propane-butane
VOC-EU g/l: 652 g/l
Relative density (20°C g/ml): 0.728
Vapour pressure at 20°C: 2.0 - 2.6 bar
Spray flow: 1.5 g/sec
Instructions of use of the Penetrating oil
Shake well before using the penetrating oil.
Apply the penetrating oil and leave for a few minutes before unscrewing / releasing the parts concerned.
CLP labelling with two pictograms.
Dangerous. Follow the precautions.
HYDROCARBONS, C9-C11, N-ALKANES, ISOALKANES, CYCLICS, < 2%% AROMATICS
H222 Extremely flammable aerosol.
H229 Pressurised container: May burst if heated.
H336 May cause drowsiness or dizziness.
Health and safety
Safety data sheets are available free of charge on the internet: www.quick-fds.com.