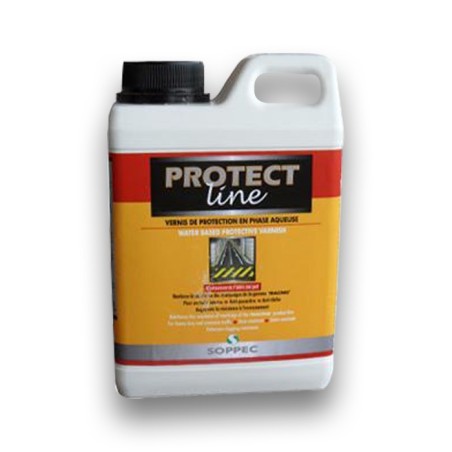  
PROTECT LINE marking protective varnish
Line protective varnish
PROTECT LINE marking protective varnish is an aqueous phase varnish that lengthens the life of lines marked using paint from the TRACING and TRACING PLUS ranges by improving resistance to heavy traffic. Apply 1 or 2 coats using a roller, brush or spray. Waterproofs and protects against stains and dust. Good resistance to scuffing and scratching.
See product's full description
PROTECT LINE marking protective varnish
Properties of the PROTECT LINE marking protective varnish
High dry-extract level (33% +/-2%)
Appearance: milky white becoming transparent when dry
Finish: satin
Quantity required: 15 a 50 m²/l depending on the application surface and dilution
Drying: 2 to 4 hours
Time before the surface can be used (traffic-ready): 24 to 48 hours
Application temperature: +5°C to +30°C
Density: 1.05
Specifications of the PROTECT LINE marking protective varnish 
Composition
Aqueous dispersion of metallic acrylic resins mixed with a wax emulsion.
White, odourless liquid that can be diluted with water forming a transparent satin-finish coat once dry.
Application method
Manually or using our application equipment (paint roller…)
Drying Time: 15 to 20 min
Data sheet
Volume

1 L

Product type

Protection spray, Marking complement

Application domain

Maintenance, Signalling and events, Ground signage, Line marking

Application area

Metal, Bitumens, Concrete

Packaging

1L drums per individual box
Specific References
ean13

3598300023227
Recommendation for use
Easy to use, containing only one component, it requires neither special training nor any sophisticated application equipment.
Dilution: can be used neat or diluted with water (between 5% and 15%) according to requirements.
Sensitive to frost.
The unused product should be stored at a temperature between 5°C and 25°C in a dry, wellventilated area.
Store in a frost-free place, can be kept for 18 months in the original, unopened packaging.
Keep all packaging tightly closed, carefully close after opening and keep upright.
Keep away from sources of ignition, heat and sunlight.
Dangerous. Follow the precautions.
EUH208 Contains 1,2-BENZISOTHIAZOL-3(2H)-ONE. May produce an allergic reaction.
EUH208 Contains MIXTURE OF: 5-CHLORO-2-METHYL-4-ISOTHIAZOLIN-3-ONE [EC NO. 247-500-7] AND 2-METHYL-HISOTHIAZOL-3-ONE [EC NO. 220-239-6] (3:1). May produce an allergic reaction.
EUH210 Safety data sheet available on request.
Health and safety
Safety data sheets are available free of charge on the internet: www.quick-fds.com.