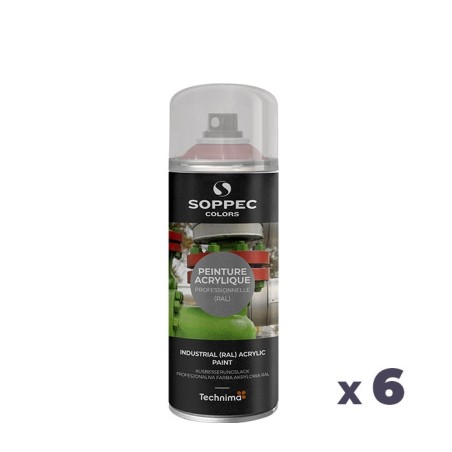  
Acrylic Touch Up Paint
RAL touch up paint
An Acrylic Touch Up Paint formulated with acrylic resins for fast drying with an excellent surface finish. Can be used on a variety of surfaces, particularly metals, in diverse areas of activity such as touching-up paintwork on agricultural machinery or construction plant, fencing, industrial maintenance and paint repairs, and to identify pipework (RAL safety and warning references).
See product's full description
In addition, an acrylic resin-based metallic finish paint is also available. Ideal for restoring a metallic aspect to surfaces it can be applied directly to the metal or over a primer. 
Standard references available on stock in 400 ml and 500 ml.
Availability in other RAL colours on demand and under conditions of quantity, cost and delay :
References in 400 ml : 47...
References in 500 ml : 49...
210 OTHER COLOURS AVAILABLE ON REQUEST
(minimum quantity 12 aerosols)
Properties of the Acrylic Touch Up Paint
Rapid drying
Easy to apply, both a first coat additional coats as required
Particularly good covering power
A very flexible paint film with a superb gloss finish
Long-lasting even outdoors
Good adhesion to a range of different surfaces
Touch dry (ASTMD-1640 ISO 1517): 10 to 15 minutes
Completely dry (ASTMD-1640 ISO 1517): 12 hours
Temperature resistance: 120°C
Leave to dry for 15 minutes between coats
Dry film thickness: 15μ/coat
Specifications of the Acrylic Touch Up Paint 
Composition
Binder: acrylic
Solvent: blend of solvents, free from lead and heavy metals
Propellant: dimethyl ether
Instructions for use
Thoroughly shake the aerosol for at least 2 minutes before use to ensure the pigments are correctly mixed.
The surface must be clean, dry and free from grease. Degrease the surface to be treated, remove rust and dust.
To improve adhesion, it is recommended to apply an undercoat prior to use, depending on the condition of the surface to be treated.
Spray at a distance of 25 cm from the surface.
Best results are obtained by applying several thin coats in different directions rather than a single thick coat.
Coverage approximately 2m² per can according to the application conditions and the state of the surface to be treated.
If appropriate, carry out a test on an unobtrusive area beforehand to verify the compatibility of the paint with the surface.
CLP labelling with two pictograms.
Dangerous. Follow the precautions.
ACETONE
H222 Extremely flammable aerosol.
H229 Pressurised container: May burst if heated.
H319 Causes serious eye irritation.
H336 May cause drowsiness or dizziness.
Health and safety
Safety data sheets are available free of charge on the internet: www.quick-fds.com.