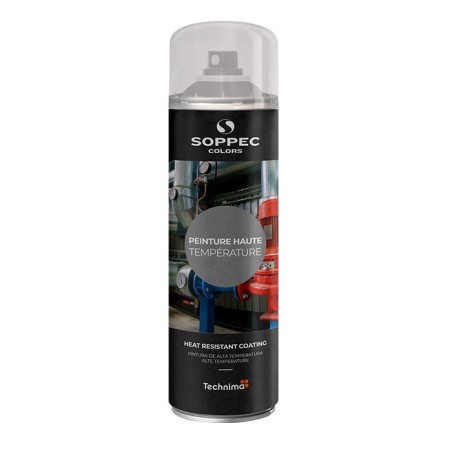  
Heat Resistant Paint
Heat resistant paint
Heat-resistant paints that can be used on surfaces exposed to very high temperatures such as: steam pipes, engines, exhaust pipes, radiators, etc. They can be used to coat new, bare, shot, rusted or painted steel, as long as it has been correctly prepared before applying the HT paint.
See product's full description
Properties of the Heat resistant coating
Excellent adhesion
High resistance to petrol and chemicals
Heat resistant up to a peak temperature of 650°C
Dust dry after 5 to 10 minutes
Touch dry after 10 to 15 minutes
Completely dry after curing for 30 to 60 minutes at 200°C
(Figures given for information only, actual times will depend on the temperature, paint thickness, humidity etc)
Specifications of the Heat resistant coating 
Composition
Binder: silicone resin
Pigments: Heat resistant colour pigments
Propellant: dimethyl ether
Precautions for use
Before applying the high temperature paint, make sure the surface is clean, dry and free of grease.
Remove any remaining paint, varnish, rust and sand. When used outdoors, remove any moss or algae deposits.
Cover the surrounding areas.
Shake from time to time during use.
Apply from a distance of approximately 25 to 30 centimeters.
After drying, heat for 30 to 60 minutes at least 200°C to harden the paint layer.
CLP labelling with two pictograms.
Dangerous. Follow the precautions.
HYDROCARBURES, C6, ISOALKANES, <5% N-HEXANE
N-BUTYL ACETATE
H222 Extremely flammable aerosol.
H229 Pressurised container: May burst if heated.
H315 Causes skin irritation.
H319 Causes serious eye irritation.
H336 May cause drowsiness or dizziness.
H412 Harmful to aquatic life with long lasting effects.
Health and safety
Safety data sheets are available free of charge on the internet: www.quick-fds.com.