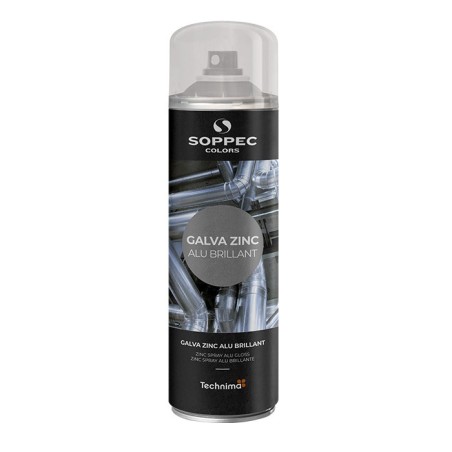  
Cold Galva Zinc Aluminium Spray Paint
Cold Galvanizing Paint
The Cold Galva Zinc Aluminium Spray Paint is a paint for cold galvanising of iron and steel surfaces, can be used to touch-up and repair damaged areas of altered zinc, for steel parts, bodywork, fencing, metal buildings and heavy industry. This primer provides a tough, corrosion- resistant and protective gloss coating to iron and steel, leaving the surface with a newly-galvanised appearance
See product's full description
Cold Galva Zinc Aluminium Spray Paint
Properties of the Cold Galva Zinc Aluminium Spray Paint 
Very good adhesion, provides an excellent surface for painting
Chemical-resistant
Heat resistant up to 250°C
Dust dry after 10 to 15 minutes
Touch dry after 20 to 30 minutes
Leave to dry for 24 hours between coats
(Figures given for information only, actual times will depend on the temperature, paint thickness, humidity etc)
Specifications of the Cold Galva Zinc Aluminium Spray Paint 
Composition
Binder: epoxy-ester
Pigments: zinc and aluminium with high degree of purity
Propellant: Diméthyl ether
Precautions for use
Shake well before use.
Remove paint and rust residues with a wire brush or a sander.
Surface must be clean, dry and free of grease.
When using outdoors, remove any moss or algae deposits.
Cover surrounding areas.
Spray from a distance of 25 cm from the surface.
Apply several thin layers.
Between the various layers, respect a time of drying of approximately 20mn
CLP labelling with three pictograms.
Dangerous. Follow the precautions.


ACETONE
N-BUTYL ACETATE
H222 Extremely flammable aerosol.
H229 Pressurised container: May burst if heated.
H319 Causes serious eye irritation.
H336 May cause drowsiness or dizziness.
H411 Toxic to aquatic life with long lasting effects
Health and safety
Safety data sheets are available free of charge on the internet: www.quick-fds.com..